Windows 8 PowerShell Lock Screen
This week I was busy preparing a PowerShell workshop I'm delivering next week and this is my first workshop on my new laptop with Windows 8 RTM installed on it.  And when taking a short break I stumbled upon some PowerShell wallpapers on the PowerShell Magazine website. And because it's pretty easy to configure your own Windows 8 lock screen, I made some slight adjustments to the original wallpapers.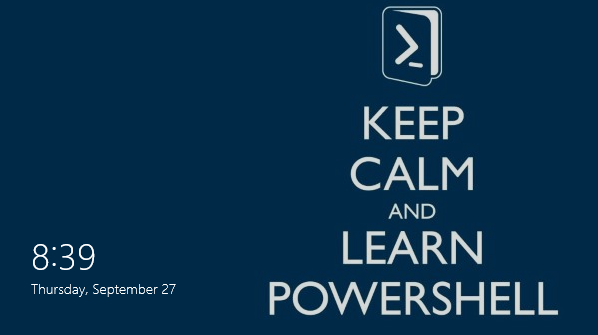 If you also want to configure your Windows 8 lock screen you need to follow these steps.
Download one of the Keep Calm Lock Screen images from PowerShell Magazine Wallpapers' page

Save the file somewhere on your Windows 8 machine.

Go to Windows 8 Start Screen (Hit Windows key)

Click on your username (right top corner of Start Screen).

Click on Change account picture.

Click on Lock screen

Select Browse and choose the file you have downloaded in step 1 and you are done.
Have fun with your new Windows 8 PowerShell lock screen.
Share on: